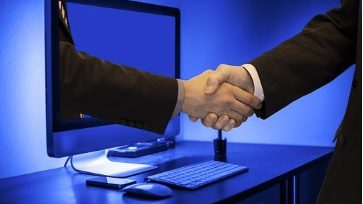 Sourcing is a relationship, trust matters
Sourcing is like a personal relationship. It never becomes successful and long-lasting without trust on both the supplier and buyer side.
Trust is earned but how?
As a supplier, one must be willing to show and tell the buyer your credentials – business registration information, product patents, company certifications, industry experience and more.
Back words with actions. Once a buyer has committed to an order, ship them what you have advertised, follow what was agreed upon and ensure delivery is timely.
As a buyer, convince your supplier you mean serious business. Besides company credentials and sourcing history and experience, tell them in a clear manner what your sourcing needs and requests are.
Stay true to your words. Trying to impress a supplier by initially placing a large order is a big no-no if you aren't going to commit to it.
John Niggl, Client Manager at InTouch Manufacturing Services, says in an interview with Global Sources:
"Buyers wanting to garner trust with their suppliers would do well to be frank, direct and open. A buyer that's just getting started and wants to start with a small "trial" order should be upfront about it. And a buyer with strict requirements for third-party oversight should clarify that as well, especially one that plans to charge back their supplier for the cost of re-inspection, for example, which is common."
Visit the supplier every so often, if needed. The supplier seeing you in person is way better than them just talking to you via email. Do this to avoid being "out of sight, out of mind". Suppliers have lots of buyers to deal with and this helps make you a priority.
Betrayed? Time to move on
There will be times that you, the supplier or buyer, cannot find the business partner who is willing to do all of the things mentioned above.
Or worse, you have been scammed already by fake suppliers or buyers.
What to do? When trust is broken in sourcing, move on. Dan Harris of ChinaLawBlog advises importers to walk away when they see fraud, quoting Quality Inspection Blog's Renaud Anjoran:
"Any little fraud (e.g. pretending they are a manufacturer when actually they are a trading company) IS a fraud. If they lie about this, they will lie about other things too."
Search for a new supplier or partner with another buyer.
Tired of looking for the right one among the many companies you are trying to build relationships with? Worry not, Global Sources is here to help.
Seeking help from a friend
GlobalSources.com, your go-to B2B online to offline sourcing platform, is the friend with the helping hand.
Global Sources verifies both the supplier and buyer side so you'll easily know who among the legions you should trust. To check suppliers listed in its site, Global Sources has partnered with independent third parties such as Dun & Bradstreet, Ease Credit, Experian and TÜV SÜD to vet business registration and manufacturing licenses.
Global Sources also keeps track of suppliers attending its October and April trade shows. Seeing them face-to-face, communicating with them and having them register personally confirm they are real.
A buyer in a video interview with Global Sources, says that buyers meeting "real suppliers" they can trust is one of the most important things when sourcing and among the top reasons why they choose Global Sources.
Other buyers also agree.
Richard of Samuel Exports, in a testimonial, describes how reliable the partners they have found through Global Sources are: "Trustworthy to the core! Most of our manufacturing members are from Global Sources. Global Sources gives us peace of mind and satisfaction. Our data is safe with Global Sources."
Emmanuel Yorke from Kwajust Ventures Ltd also trusts Global Sources in finding genuine suppliers: "With Global Sources, I know I am dealing with a legitimate company so long as it's been verified by them."
Kendall Fortner of Give the Light shares how Global Sources has made sourcing from China easily through its verification system: "The best part of using Global Sources is finding capable and competent suppliers that have been verified. This takes the worry out of purchasing products in China."
Buyers using Global Sources are also verified through submitted business profiles, buyer details in inquiries made to suppliers, and trade shows attended. So make sure to go to or register as exhibitors in trade shows as these are the best opportunities for you to communicate with genuine suppliers and buyers directly.
Global Sources after all is, "well-known for its quality buyer community," Anthea Wang of Guangdong Homa Appliances Co. Ltd says in a Global Sources testimonial.
Meeting the right one
Finally met a trustworthy sourcing partner? Great! Nurture that relationship by staying trustworthy, too.
Maintaining good relationships has a lot of benefits. In China, for instance, relationships or "guanxi" that have lasted long indeed resulted in good things.
Gary Huang of 80/20 Sourcing in a Smart China Sourcing article about the art of guanxi wrote that among the advantages for buyers are better pricing, lower MOQs, better payment terms and high priority from suppliers, higher chances of accommodating requests and lower chances of IP being leaked to competitors.
On the supplier side, good relationships of course reap great buyer feedback, more buyer connections, and repeat orders.
Now that you know why trust matters in sourcing and how to build it, source and sell confidently. Find the right partners via GlobalSources.com now.