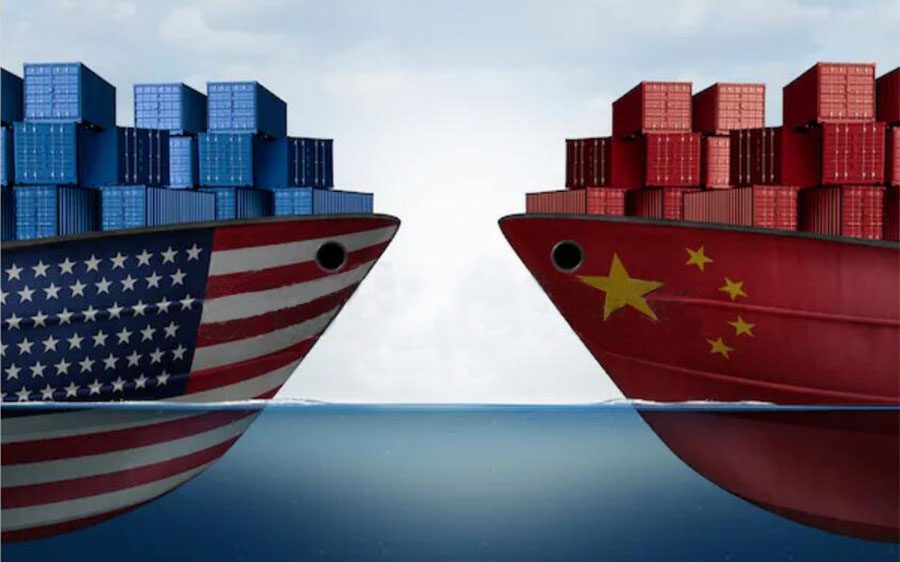 Ongoing economic "cold war" in 2019
2019 is a dramatic year, featuring events that changed the fates of millions around the world. As we move toward 2020, it's time to look back at the past 12 months and reflect on 10 of the most influential topics in China and beyond.
Understanding the origins of the trade war involves realizing that China was on a clear path to supplant the U.S. as the world's economic centre, and eventually become a more prosperous country, something that the United States could never accept. Thus, strategic competition is the new normal, including in the international economy.
2019 witnessed many key developments in the Sino-U.S. trade war, and most of these developments involved the intensification of conflict by the United States. In May there was an increase in tariffs on over 200 billion U.S. dollars in Chinese goods from 10 to 25 percent and an uptake in U.S. aggression against Chinese technology companies.
In August, the U.S. Treasury Department declared China a "currency manipulator," despite the IMF's view that the U.S. dollar is overvalued, while the Yuan is correctly valued. This was followed by Trump urging U.S. businesses to "immediately start looking for an alternative to China."
For China, the most notable trend in U.S. politics in 2019 has been the emerging bipartisan consensus between Republicans and Democrats against it. As the 2016 presidential election and subsequent events have shown, the United States is more divided than ever. Yet the one thing America seems to agree on is increased aggression toward China. This has led the United States to link the trade war to other political objectives, as can be seen in the Hong Kong Human Rights and Democracy Act, and the Uygur Human Rights Policy Act, which threaten sanctions based on how China governs its internal sovereign affairs. China has responded to American economic belligerence proportionately and strategically. As the country with the trade surplus, it is natural that China's cannot match impact dollar-for-dollar, and thus U.S. tariffs apply to 550 billion U.S.dollars in Chinese goods where only 185 billion U.S. dollars in U.S. goods are affected.
To be effective, Chinese retaliatory measures needed to obtain greater value for money. The strategic targeting of U.S. agriculture as a source of instability in the U.S. political system can be seen in China's targeted retaliation against the U.S. soybean industry, whose products once accounted for around 11 percent of total Chinese imports from the U.S. China has also actively diversified its agricultural imports away from the United States, to the benefit of countries like Australia, Brazil and many in the European Union. It has promoted the redirection of investments and supply chains to regional, or at least friendlier, economies.
The Belt and Road Initiative has strengthened China's links to Asia and Europe, and logically, trade and investment will follow. This indicates that strategies of "decoupling" promoted by figures such as Trump's trade adviser Peter Navarro will not succeed in derailing China's rise. At best, the result will be new partnerships in the international economy. There will also be a renewed orientation toward domestic consumption, as can be seen by Chinese President Xi Jinping's instruction for China's government agencies to replace its foreign-made computer hardware with locally sourced products. The phase one trade deal is no sign that economic relations between China and the U.S. are improving. Instead, it should be seen as a short-term pause, the drivers of which lay in the upcoming U.S. presidential election. With U.S. farmers a potentially crucial demographic for his chances at re-election, President Trump was keen to alleviate the problems the trade war has caused for them. The prominent place of farm products in the December truce can be seen in this context. This is a follow-up to his use of tariff revenues to generate relief funds for U.S. farmers.
There are few signs that the Sino-U.S. trade war will end in the coming year. As a foreign policy, the trade war has bipartisan support in the United States. In what is otherwise an increasingly divided country, this is a remarkable thing. The upcoming presidential election, as it concerns foreign policy, is likely to be fought over who is hardest on China. U.S. domestic politics has seen a rising tide of anti-Chinese sentiment, with an August poll by the Pew Research Centre indicating much more Americans have negative opinions about China compared to which have favorable opinions. With the U.S. political system beholden to public opinion, however poorly informed, there is little reason to be optimistic about Sino-U.S. relations in 2020.