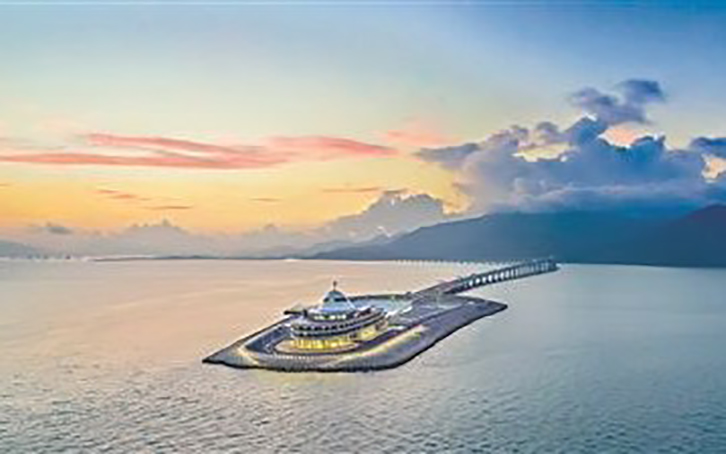 What will the Hong Kong-Zhuhai-Macao Bridge bring to e-commerce?
The cross-border e-commerce supervision site, located at the Zhuhai Port of the HongKong-Zhuhai-Macao Bridge completed the first batch of cargo export test to HongKong and Macau (regulatory code 9610) in March. It is the new channel for the retail export of Zhuhai e-commerce. It undoubtedly brings advantages to the commercial trade in Zhuhai.
And Yesterday(July 22th), 3781 cross-border parcels were successfully inspected and delivered from the HongKong-Zhuhai-Macao Bridge to Macao. The "9610" cross-border e-commerce retail export business has completed its first trial operation.
The export process is also simple. The exported goods could enter the warehouse through the mainland freight vehicle to unload, which is next to the supervision site. And then the goods could be picked up by the freight vehicle (With Mainland and either Macao or Hongkong double licenses). And it only takes a few minutes to pass through the port. It only takes 30 minutes to reach HongKong International Airport, 1 hour to HongKong Kwai Chung Ferry, and 25 minutes to Macao International Airport. It is open 7×24 hours throughout the year, greatly reducing export logistics costs and time costs.
The opening and operation of cross-border e-commerce supervision sites mean that the development of "9610" export business in Zhuhai Pearl River Estuary will accelerate and be more complete. As a key city in the Greater Bay Area, Zhuhai faces the world through HongKong and Macau. It facilitated the development of the Zhuhai e-commerce industry and provided unlimited possibilities.
HiGlobal Consulting Company is exactly located in Zhuhai, which is one of the cities of the Greater Bay Area. We take advantage of the region and provide you with much more business opportunities. We will always escort you. We devote to studying the global value chain and high-quality supply chain. We not only guarantee quality certification for you, but also provide you with the lowest cost, highest efficiency, and safest medical supplies. HiGlobal helps you in product sourcing, price negotiation, factory audit, QC, legal support, and after service. Making you more resilient in the global value chain and protect your business and family from beginning to end is what we are doing. Get in touch with us to start a profitable business NOW!
What is "9610"?
Due to the characteristics of cross-border e-commerce are in small orders, and also to facilitate the customs clearance of cross-border e-commerce retail import and export enterprises, the General Administration of Customs has added the customs supervision method code "9610" since February 10, 2014. It created the method of "List verification and Summary declaration", which has improved the efficiency of the Customs Declaration and reduced the operating costs of enterprises.