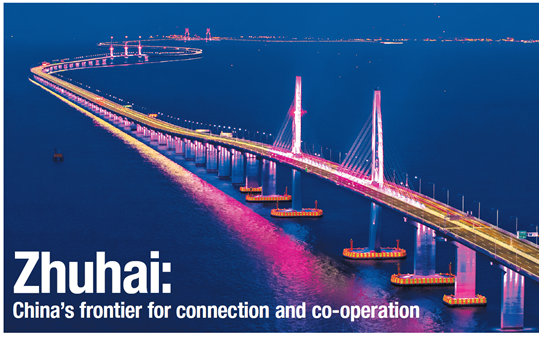 Zhuhai: China's frontier for connection and cooperation
Zhuhai's prominent position as the crucial collaboration point between the Chinese mainland and Hong Kong and Macao has taken another giant stride forward with the opening of a key project in the Guangdong-Hong Kong-Macao Greater Bay Area's sensational strategy for development, growth and global connection. The first official operation of the new Hong Kong-Zhuhai-Macao Bridge, which joins the mainland with the two Special Administrative Regions, was on 24 October. The 55km, longest sea-crossing bridge in the world is an astonishing feat of engineering and a tangible representation of Chinese ingenuity and ambition, and it will deliver significant economic and socio-economic benefits.
It is a major cause for celebration for the Chinese people and for the vibrant coastal city of Zhuhai, which is playing a hugely influential role as the sole mainland roadway connection to Hong Kong and Macao by utilising its outstanding geographical location in the Pearl River Delta and implementing favourable policies to further transform the strategic gateway which services the Greater Bay Area.
The Framework Agreement on Deepening Guangdong-Hong Kong-Macao Cooperation in the Development of the Greater Bay Area, which was signed by the three regions, demonstrates that promoting infrastructure connectivity is a key cooperation area in developing the Greater Bay Area and efforts will be made to leverage the strengths of Hong Kong as an international transportation center and lead other cities in the Bay Area to jointly build world-class port and airport clusters. The geographic advantage of Zhuhai as a connector will be more obvious when the Hong Kong-Zhuhai-Macao Bridge starts operation.
"With the Hong Kong-Zhuhai-Macao Bridge, Zhuhai has integrated with the international financial, trading and shipping centre of Hong Kong and Macao, a world center of tourism and leisure, promising a constant free flow of tourists, vehicles, cargoes, capital and information. The increasingly improved transport system of Zhuhai will advance the industrial upgrade and sustain economic prosperity within the region," commented Wang Mengyang, deputy director-general of Zhuhai Development and Reform Bureau.
In 2017, the container throughput of Port of Zhuhai grew by 37.3% to 2.27 million TEU, ranking 73rd in the world and registering the second-highest growth rate, according to data released by the world-renowned shipping consultancy Alphaliner.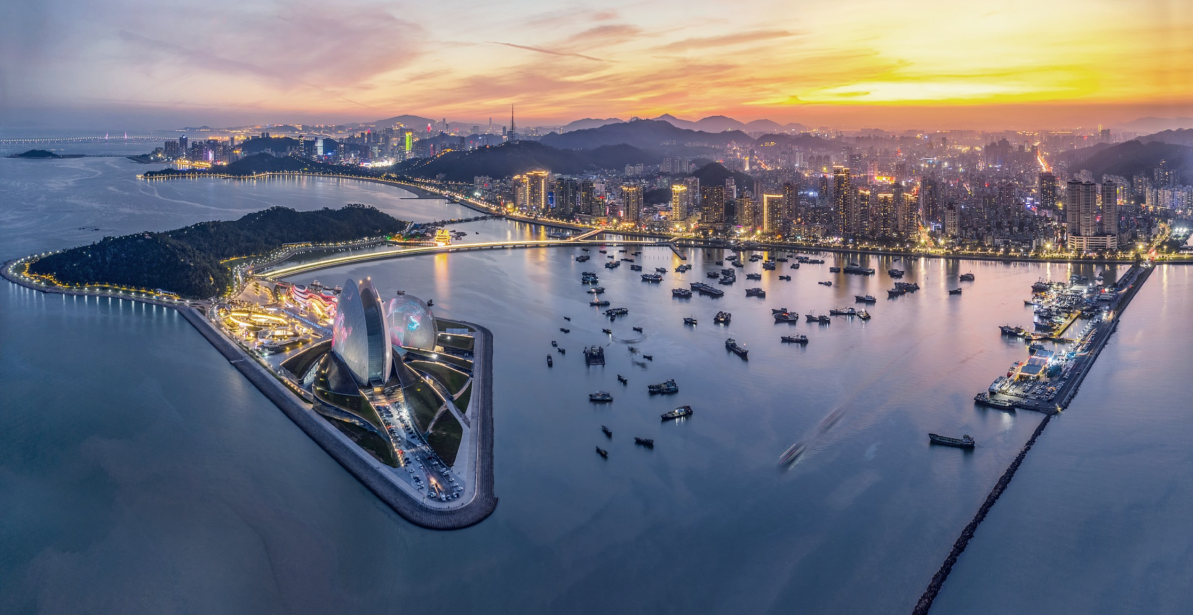 In Gaolan Port, Zhuhai already boasts the only deep-water port on the west bank of the Pearl River – an important stop on the ancient maritime Silk Road – and the city has made it clear it will make full use of the new bridge to interconnect sea-land-air transportation services by establishing a Guangdong-Hong Kong-Macao Logistics Cooperation Park, merging free trade with the shipping industry. In 2017 the gross value of the industrial output of the Gaolan Port area exceeded RMB 100 billion (£10.99bn) and the port handled over 100 million tons of cargo. Meanwhile, in the first half of 2018 Zhuhai Jinwan Airport handled 5,459,000 passengers and over 22,000 tons of cargo. Upgrading the trade and logistics capabilities will only enhance the city's regional and global economic integration.
A great number of companies have already tapped into Zhuhai's potential for development, even before the Hong Kong-Zhuhai-Macao Bridge has officially begun operation. Statistics show that the first half of 2018 has seen the signing of 60 major investment promotion projects with Zhuhai, up 172.7% from the same period of 2016, with a total investment of RMB 44.133 billion (£4.85bn). Among them, there are 11 projects each with a contractual value of more than RMB 1 billion (£109.87m), which have settled in the city, including Hengqin Science Town, Ninestar's laser printer project at the Gaolan Port Economic Zone and the Flex Zhuhai Industrial Park 4.0 in Doumen district.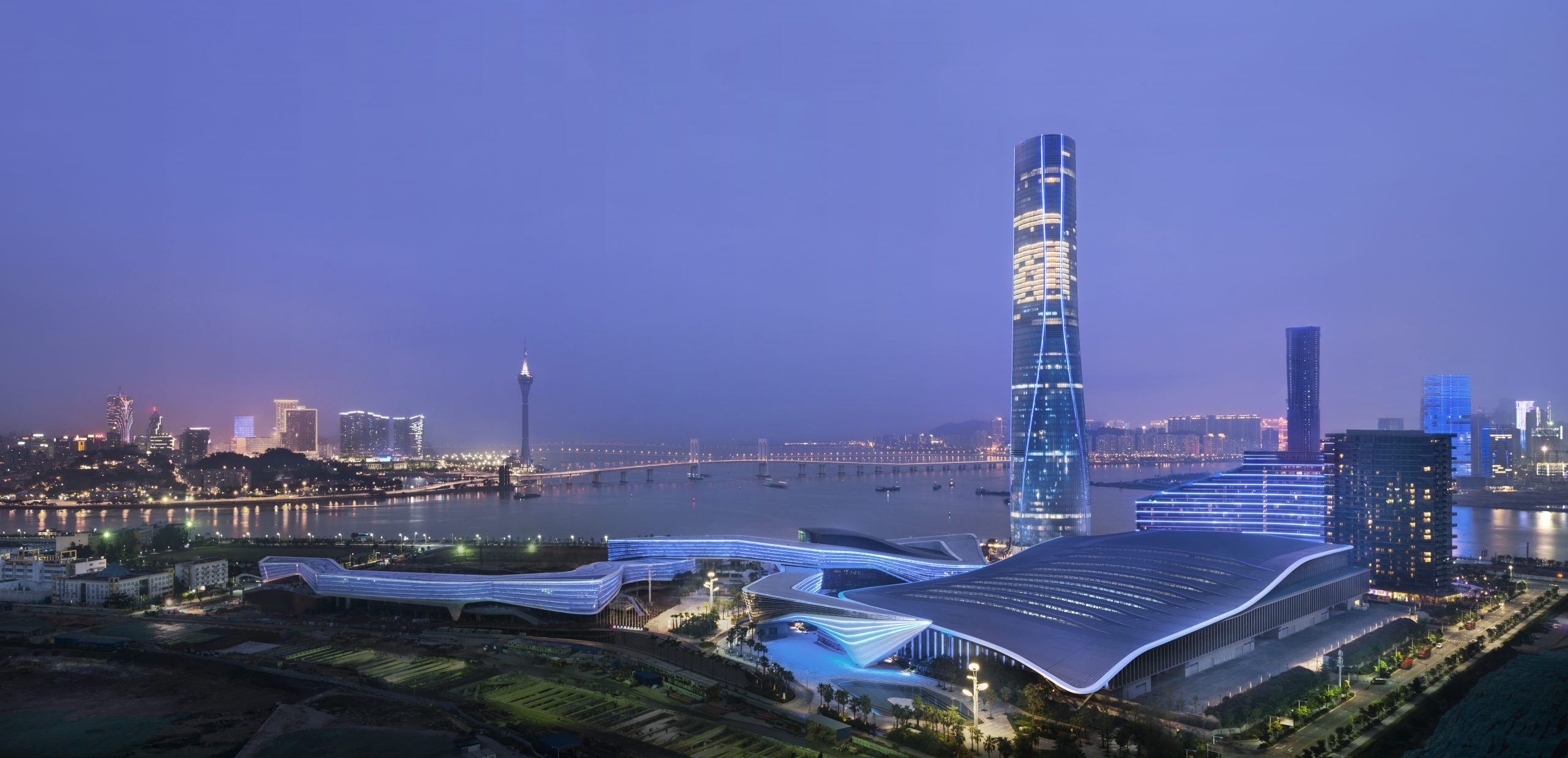 The new bridge will be the lynchpin in a new 46.6 square km economic centre that will incorporate the Hengqin New Area, the bonded zone and the Port of Hongwan – with a new transport hub also planned. It will lead to the emergence of a new Zhuhai, a city that will become synonymous with innovation and openness. The latest plans for Zhuhai include widening its focus to incorporate intelligent industries such as big data and cloud computing, as well as industries ranging from new energy, bio-medicine and medical equipment to cross-border finance, business exhibition and leisure travel. The bridge facilitates this diversification and enhances collaborative creativity and productivity with the rest of the world, boosting capital gains and technological progress and increasing the flow and exchange of talent within the Greater Bay Area.
Since its establishment in April 2011, XH Smart Tech (China) Co., Ltd., which is based in the Zhuhai Free Trade Zone, has reached clients in over 70 countries and regions with its cutting-edge technologies and smart solutions. "When the bridge is formally opened, it will take us only 40 minutes to go to the Hong Kong International Airport from our company. This will greatly boost the mobility of our employees and cargo. With Zhuhai and the bridge as gateways for going global, our service will become more targeted and efficient," said Yang Huanglin, vice president and director of XH Smart Tech.
According to Mr. Yang, in the past the cargo delivered to the airport had to go through such formalities as flight arrangement and storage. Now, however, the operation of the bridge will ensure a more efficient delivery, saving time and significantly reducing logistics costs.
With the support of the central government Guangdong, Hong Kong and Macao have been improving collaborative mechanisms and facilitating win-win co-operation to build a world-class bay area and city cluster. Policies for improved transport facilities, expedited employment, education, medical, housing and commuting services for people from Hong Kong and Macao in the mainland are in process.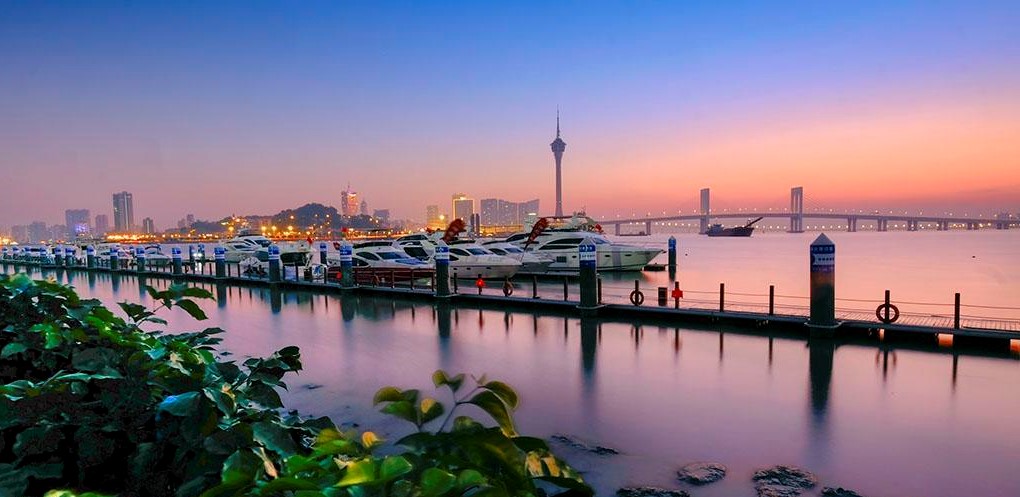 These strategies for the area have been producing excellent results. Zhuhai is now the leading city in Guangdong in terms of GDP growth, up by 8.7% to RMB 129.9 billion (£14.8bn) in the first half of 2018. High-tech companies are at the forefront of the city's rise, at the heart of which is the Inno Valley HQ, a "National Makerspace" which houses the first Youth Start-up Board operating centre in China. It opened in June 2015 and has incubated 284 projects – more than half of which are from Hong Kong and Macao and has secured investment totaling RMB 440 million (£48.8m).
Utilizing favourable policies and Zhuhai's drive to create a centre of excellence in technological research and development is Macanese data, cloud computing and e-commerce technology company, Bringbuys Web Technology Co., Ltd, whose founder Vincent Chou chose to settle the company in the city's Hengqin New Area initially with 13 employees and has since seen it grow to a staff of over 100.
"Hengqin wants to be like the Chinese version of Silicon Valley," says Chou. "It is a very important place that has a lot of advantages for big data and e-commerce companies. The government has given us a grant of RMB 1.8 million (£200,000) because we are listed as an important high-tech company, and the rent in our ready-to-use, the fully-furnished office is free. When the Greater Bay Area develops and with the opening of the bridge, Hengqin will have a very bright future, it is very promising."
Since it was established in April 2015, the Hengqin New Area has been committed to becoming the premier gateway to the outside, and the Co-operation Demonstration Area of the Greater Bay Area. As such it has implemented a wide range of innovative schemes to integrate with the free port policies of Hong Kong and Macao. These include the launch of the nation's first multi-purpose Commercial Subject E-card which provides greater efficiency for business approvals, covering areas including registration, licensing and qualification. A breakthrough has also been made in intelligent electronic taxation; the country's first V-Tax system which allows Hong Kong and Macao taxpayers to independently handle taxation procedure through remote taxation officers. This practice has not only made cross-border processing of local tax possible but also streamlined the tax administrative approval procedure.
The development of Hengqin has directly promoted the moderately diversified economic development of Macao. Macao is to become a base of communication and cooperation with Chinese culture, and a platform for cooperation between China and Portuguese-speaking countries. The new bridge and its role in the national strategy will also help Macao's tourism, exhibition and logistic supply industries.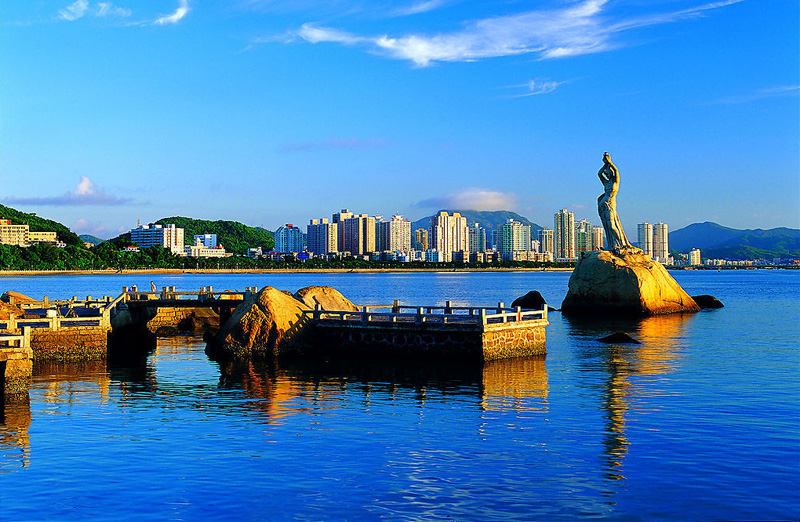 In this regard, Hengqin is vital in helping to ensure the long-term prosperity and stability of both Macao and Hong Kong. The building of the Guangdong-Hong Kong-Macao in-depth demonstration zone has yielded fruitful results. Currently there are 2,490 Hong Kong and Macao enterprises registered in Hengqin, of which 1,285 are Macao-based. Favourable policies have been formulated to encourage and support Macao-based enterprises. A fund worth RMB 20 billion (£2.2bn) has been set up, providing support for Macao investment projects as well as employees, who can access assistance regarding accommodation and other public services. Some Hong Kong and Macao businesses can qualify for a reduction of 15% in corporate tax, while residents from the two regions have been offered income tax subsidies which have totaled RMB 71.7m (£7.95m) so far.
Two representative innovation centers in Zhuhai are the Guangdong-Macao Industrial Park, which has introduced 83 projects, and the Guangdong-Macao Traditional Chinese Medicine Science and Industrial Technology Park, which has 88 registered enterprises, and has established contact with the national medical and health authorities of Portuguese-speaking countries to promote international registration and trade in services in the fields of TCM and health services.
Cutting-edge technology is thriving in other areas of the city too, with world-class company Yuren Agricultural Aviation Co., Ltd a leading example of compliance with the government's requirements for "high standard, high quality and high speed". Established in 2011, Yuren has developed state-of-the-art agricultural Unmanned Aerial Vehicles, possessing more than 80 patents for its products whose multiple functions include crop protection, planting seeds and delivering fertiliser.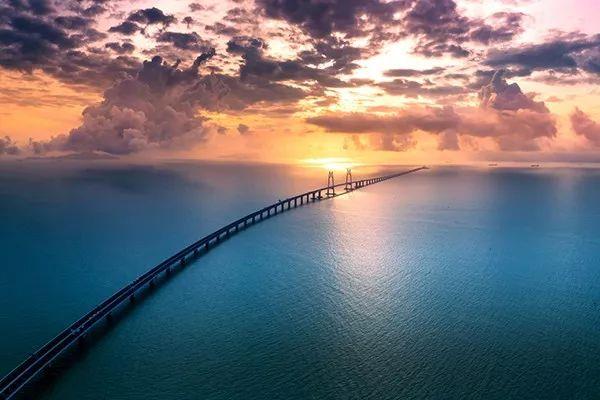 Yuren's exceptional quality and standards were referenced as the reasons why Thai farmer Nuttee Kulthanuntnitichote opted to buy one of their agricultural drones for his 100-hectare rice farm in Phichit. Taking a short break from flying a practice drone that is part of Yuren's two-week tuition package which equips their customer with the necessary pilot skills, Nuttee said: "Yuren's products and services are the best available. My family has always been farmers, but this is the first time we will use a drone. It will change my life, I will become a smart farmer."
Additionally, progress has been made in opening-up and cooperating with the countries along the Belt and Road. Many Hengqin-based Chinese companies are exploring the global market by setting up branches in countries like Germany, France, Spain, Mexico and Uruguay, and it has produced investment of about RMB 25.38 billion (£2.8bn) in Singapore, Thailand and other countries along the Silk Road. And there are 2618 new foreign-funded enterprises in Hengqin, with a total contract value of RMB 169.4 billion (£18.8bn). This has been achieved through the 'bring-in' strategy.
With proposals to turn the bay area into a hub of global innovation, finance, shipping and trade, it is hoped that by 2030 it will have become the world's largest bay in terms of GDP. Zhuhai is showing it has the vision and skills to harness its potential and realise this ambition. The city has embraced policies that encourage and support Hong Kong and Macao residents to start businesses in the mainland. It is attracting global innovation resources into the area and continuing to grow its centres of excellence for science and technology. It is also uniquely positioned to operate within the 'one country, two systems' principle to deepen ties with Hong Kong and Macao, as well as link China more closely with Portuguese-speaking countries.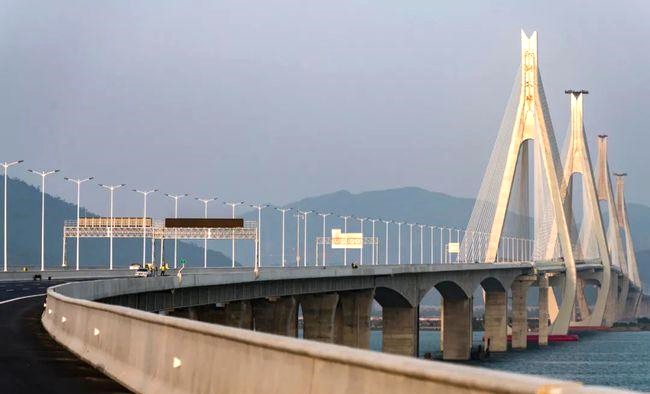 Guo Yonghang, Secretary of the CPC Zhuhai Municipal Committee, has said "we will strive to transform the city into a new economic engine for the Greater Bay Area and an enchanting City of Charm with unique features". It is evident that vision, and the city's huge potential, are coming closer to fruition. The reform and opening-up policies implemented by Zhuhai have forged close business and cultural relations with Hong Kong and Macao, as well as countries along the Belt and Road, and the city's influence in the Greater Bay Area is gathering pace. Zhuhai is already instrumental in helping to build a more prosperous future by enabling greater national and international cooperation and reaching across borders and cultures and peoples, and it will continue to lead the way in providing new opportunities for the world.